Wichita, KS - OEM Leaf Spring Shop
Having trouble finding the right replacement leaf spring for your car, truck, SUV, trailer, or classic car? If you have a cracked, worn or broken leaf spring we can repair or replace it. We have the parts for nearly any application and also have the facility to repair or manufacture any leaf spring. All of our leaf springs are OEM quality.
We have been in business at the same location for over 40+ years and have over 70 years of experience in OEM Springs as a 4th generation family owned spring repair, replacement and supply shop.
Have you noticed your leaf springs sagging? Need to increase the load capacity on your truck or trailer? You may need to replace your leaf springs. If you're not sure how to measure or determine what kind of spring you need we can help. Simply give us a call or follow our online guide to identify and measure springs.
Notice: 
We can make springs to carry whatever you want to carry but you have to check with your OEM to make sure the rest of your vehicle can carry that amount of weight. The only person that can change how much weight your vehicle can carry is the manufacturer.
How can the O.E.M part number be obtained? Use one of the following methods:
Call the local dealer with the vehicle serial number
Truck-build sheet (line setting sheet) will often list the front or rear spring
Check the spring for a stamping number as follows:
Full Taper Springs: Part numbers may be found in one of these locations: (see illustrations below)
 A. On the end of the last leaf
 B. At the end of the wrapper
 C. On the side, bottom or top of the clip
Multi-Leaf Springs: Part numbers may be found in one of these locations:
 C. On the side, bottom or top of the clip (most common)
 D. On the end of the shortest leaf
 E. On the bottom of the last leaf beside the center bolt (sometimes this is hidden until the spring is removed)
Three Leaf Trailer Springs:
F. On the outside of the hook
Special Order Custom Spring Manufacturer
As a 4th generation leaf spring manufacturer we are equipped and have the necessary experience to create high-quality custom springs for any application. If you are in need of a hard-to-find leaf spring then you've come to the right place. We specialize in manufacturing special order custom leaf springs for classic cars and trucks.
Not only can we custom make any leaf spring, but you'll be getting the highest quality craftsmanship around. Whether it's a repair or replacement you can rest assured that you will be getting top quality parts.
How To Identify Your OEM Leaf Spring
U-Bolt Supplier & Custom Manufacturer
When replacing your leaf spring, you will often need to replace other components as well. We can provide the necessary components such as bushing, u-bolts, and shackles. We can supply all types of leaf spring u-bolts including round bend, semi-round bend, and square bend. The proper u-bolt ensures the stability of the leaf spring.
If you're not sure which type of u-bolt you need to secure your leaf spring then give us a call:
(316) 943-2386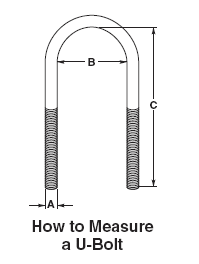 Coil springs are used to support a car or truck's weight as well as to absorb the movement forced on the wheels on uneven roads.
At Atlas Spring & Axle, we maintain a large inventory of OEM quality multi-leaf springs for all vehicle types.
In many cases when your leaf springs have been worn down, losing their arch, they can be easily fixed by re-arching the springs.